Over 25 year's experience
designing, planting, and maintaining perennial plants and gardens.
Designing gardens that go beyond the ordinary is my specialty. From large overflowing flower beds full of colour and scent, to small low maintenance front landscapes of drought tolerant shrubs and flowing ornamental grasses. My goal is to create the garden YOU want rather than applying a cookie-cutter design using the same old plants.
My many years of experience with thousands of different perennials and shrubs results in a garden that takes best advantage of your unique site conditions. Showcasing your own sense of style while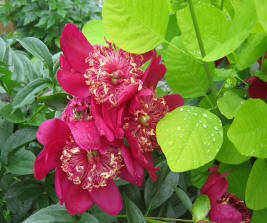 using a practical right-plant-right-place approach, is the goal.

Gardens should be so much more than just decoration for your outdoor spaces.

A well designed and skilfully planted garden is an ever-changing delight to the senses and soul. It should never cease to engage its owner, whatever the season.
Whether a large estate or small suburban backyard, your new garden will reflect personal style, and grow into maturity with health, beauty, and grace through our right-plant-right-place approach. Gardens are an investment in time, not just money! The right plant choices for our climate zone, positioned and planted correctly within your unique site conditions, means your new garden will increase in value as it ages, rather than need renovating only five years on.
Call soon and we'll explore your garden's possibilities together!
Here on my website, there's also loads of informative articles, excerpted from the classes and seminars I've presented over the years. Explore the "Articles & Tips" pages to help grow your gardening knowledge and inspire exploration. Hope you have time to browse around!
Evelyn Wolf, garden consultant
Queensville (East Gwillimbury), Ont.
your perennial garden expert

Our popular Gardening Classes are back for 2018!

Read more about the many options for both beginner gardens or those with a bit of experience that want to learn more. Register your interest early via email to guarantee a spot! Class sizes are limited.
Classes & Workshops.