In this crazy busy month of the gardening season, I'll have to make this a relatively short newsletter. If it wasn't for all the rain, I may not have gotten around to a May newsletter at all!
As anyone who has ever attended my "Think Like a Plant" gardening lesson knows, this is the time of year I simply call "zoom zoom"! Maximum green growth in the race for precious sunlight and maximum photosynthesis potential is the only thing on your plants' mind in these opening days of their growing season. They are growing so fast that from morning to evening of the same day there's a visible difference in the perennial garden. Was it really only a few weeks ago that the view out the window was solid mud brown? Hard to believe!
The dandelions have certainly been doing a lot of zoom zooming in this wet cool spring we're having too! I don't think I've ever seen so many! Spread some corn gluten in the lawn before all those dandelion flowers turn into thousands of dandelion seeds! For up to 6 weeks, corn gluten will kill any seeds as they try to germinate.
There's so many "to-do's" for this time of year that it's hard to know where to start, but here are a few to keep your gardening hours productively filled –
"To-Do's" for May ~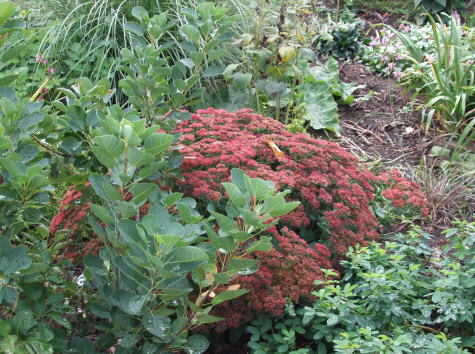 ~ Sedum spectabile. (Sedum 'Autumn Joy'). Prune off the top 2" of each stem. This will stimulate branching for fuller flowering and less flopping open later in the season. (for a picture of the beautiful results of the tip pruning regimen, click here., or scroll down.)
~ Monarda didyma (Bee Balm). If you have a large stand of tall Bee Balm, cut the front ½ of the stems down by approx. 1/3. This will stimulate branching to give the plant stand a more rounded look, and since the pruned stems will bloom later than the unpruned ones, you'll prolong the bloom time of the patch.
~ Euphorbias of all types are in bloom now. I love their chrome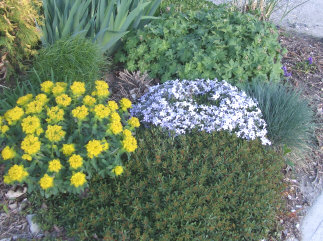 yellow flower cushion to partner with tulips at this time of year. If they are left to drop seed though you'll have a few too many seedling volunteers to weed out later in the season. Euphorbia myrsinities (Donkey's tail spurge), and Euphorbia polychroma (Cushion Spurge) in particular are prolific reseeders and many people avoid these plants for this reason, but they are very valuable plants for an all season design because of their other merits of good foliage colour and plant form. To solve the reseeding problem, cut all the stems back, at least by half, after the best of the flowering is done later this month and before seed has a chance to ripen. Discard the trimmings in a yard waste bag rather than your compost bin. New growth will quickly fill in for a lovely foliage contributor to your perennial garden design for the rest of the season.
~ Forget-me-nots are a delightful partner to so many other things coming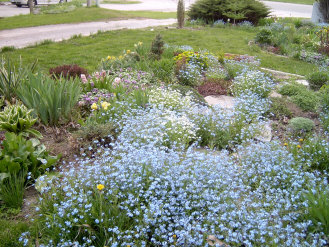 up in the garden at this time of year, but too much of a good thing is just a season away if you let too much seed drop. Forgets are biennials, which means each plant blooms only once. They'll appear again next year from seed that drops and grows the green phase only later in summer, to be the blooming plants for next spring. This means that after the best of this year's bloom phase is over, the entire plant can be just pulled out of the ground, roots 'n all, given a gentle shake to drop a few seeds, and then the garden space can be given over to your summer perennials. No need to suffer through the tail end of their blooming time when they stretch out and get mildewy – just yank them out once the best of the bloom is finished, or you'll have too much seed dropping.
~ The "secret" to a low-maintenance garden? Any plant can become a "weed" if allowed to go to seed in your garden. Making sure to deadhead or cut back plants down to basal foliage immediately after their blooms start to fade to prevent seed from ripening, is one of the biggest "secrets" to low maintenance gardening. You'll often get the bonus of a second blooming on many plants, but the main benefit to keeping your spring and early summer blooming plants trimmed and clean of faded blooms is to prevent excessive seed drop that leads to extra weeding and flopping plants later in the season. Along the same lines, it's important to recognize that just one lonely weed that's allowed to flower and drop seed guarantees that you'll have many dozens more of the same weed later in the season.
~ Oriental Lilies and their arch enemy! The hugely destructive Lily
Beetle is busy mating and laying eggs right now. Inspect your emerging plants daily and kill any you find. Also inspect the back of the leaves for a bright orange line of eggs and wipe them away with a gloved hand. Here's a link to a detailed Lily Beetle battle plan on my web site.
This long cool and wet spring is exactly what perennial plants love. I sense in my capital "G" gardener's bones that it's a great gardening season ahead! Happy 2011 gardening season, and remember to keep it fun - If a plant dies, don't despair – now there's room for that great new plant you had your eye on!
Evelyn Wolf
Perennial Garden Consultant