Home | Who We Are | Shop York Region | "Dirty Knees" newsletter | Classes & Workshops | Articles & Tips | Drought Tolerant Gardens | Seedy thoughts | Our Garden Services
consultations - design & planting - expert shrub pruning - garden maintenance - workshops and classes.
Over 25 years experience designing, creating, maintaining, talking about, teaching, and writing about, perennial plants and gardens!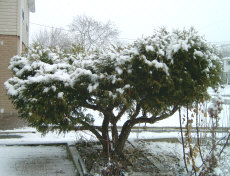 Email: Evelyn@GardenPossibilities.com
GARDEN POSSIBILITIES Perennial Garden Services
Evelyn Wolf, garden consultant, 905 478-7395 or cell 289-716-1408
your perennial garden expert

20507 Leslie St. (NE corner of Leslie & Queensville Sdrd. By appt. only please.).
Queensville (East Gwillimbury), Ontario, L0G 1R0
All photos and articles © Evelyn Wolf, 2018. Please email for permission to use.