Custom Perennial Garden Design and Expert Maintenance
Gardening Services Checklist
Garden Design
Custom perennial garden design, based on your style, your particular site conditions, and your available maintenance time. Working with ornamental grasses and unique shrubs for all season beauty is my specialty. 25+ years of experience with plants will be put to full use to create a garden well beyond the ordinary!
Quality Garden Maintenance
An experienced team of gardeners will ensure your garden is healthy and looking its best all year round.
... regular weeding visits ... annuals or other new planting ... improve plants and soil conditions to bring out best growth and blooming ... identify and repair problems in either plants, soil, or design ... prune shrubs and vines correctly long term health.
Quality care for both short term seasonal beauty and long term garden health.
Shrub pruning or renovation (see below left)
April, June & Nov. visits to keep your shrubs in peak blooming condition and optimal health. Renovation pruning or sculptural topiary style pruning can give an old shrub a new life! (see picture at page bottom)
Consultations
Garden design ideas; soil and plant health advice; renovation coach; "just bought a house with a big garden..." plant identification and teaching; tree & plant selection advice; ...
Classes & Workshops
from our thorough 6 lesson course to individual focused workshops. Classes run year round, indoor and out, with as much hands-on learning as the season allows. Visit our "classes" page for tons of options and the latest dates. (...to"classes")
Unhappy with the flower power of your shrubs? Incorrect pruning is almost always the cause!
Our "Stop the Torture" shrub pruning workshop combines a 3hr detailed lesson and slide show with hands-on demonstrations and a take-home 24page booklet. Knowledgeable pruning is THE most important gardening skill to get right for a successful garden. Learn how to stop the torture of your shrubs and young trees to create a garden that matures with grace and beauty rather than one that needs replacement or renovation over time. (...to Workshops)
From an elegant low maintenance garden of shrubs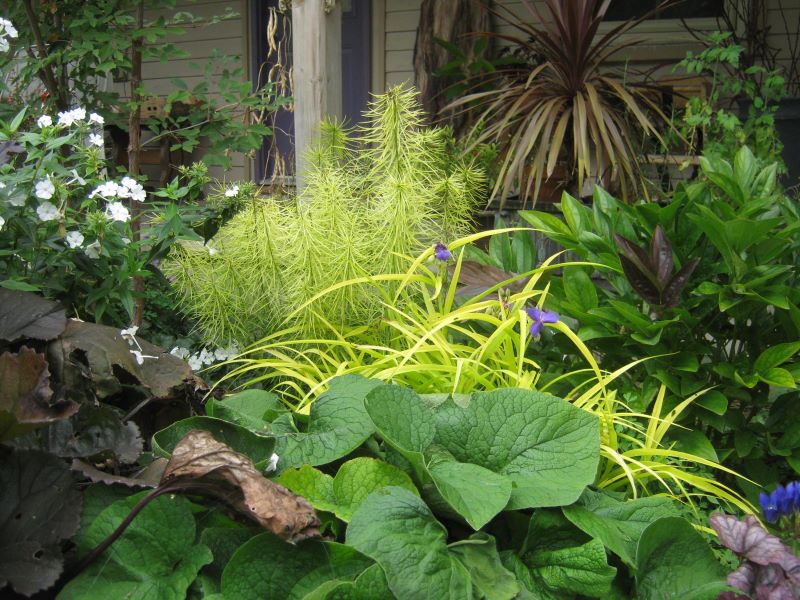 and ornamental grasses to a lush island garden full of fragrance and bloom. With our many years of experience we can adapt any style or plant preference to whatever space or budget is at hand, to create a garden that stands out from the rest.
We'll custom design your new perennial garden based on - your plant style choices; a thorough investigation of the site; family needs; sun/soil conditions; and budget. With the 1,000's of plants available today, anything is possible! Using a right-plant-in-the-right-place approach, your garden will flourish and grow more beautiful with age as each plant matures in good health, instead of needing replacement just a few years on. There is no such thing as a garden site without some type of challenge - dry sandy soil ... too wet with poor drainage ... too shady ... very windy ... etc. Working together with your unique site conditions, and using our 25 years of experience with beyond-the-ordinary perennial plants, is the key to success.
Once completed, my well trained team will be there if you need us, to see that your new garden develops as it should with either regular maintenance visits from our expert team of gardeners, or through our gardening classes to teach you how to look after it yourself.
Call soon to book your garden consultation and we'll explore your garden's possibilities!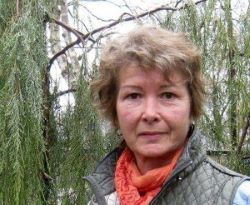 Evelyn Wolf garden consultant
Garden Possibilities Services
your perennial garden expert.
289-716-1408 or 905 478-7395
Evelyn@GardenPossibilities.com
Expert Shrub & Small Tree Pruning
Shrub Pruning is no big deal.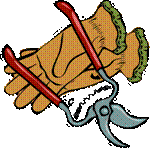 You just trim back branches each year into a neat shape before winter sets in. Right?
Wrong! What often passes for pruning is nothing less than plant torture!
The power tool "haircut" that all too often passes for "pruning", not only destroys the natural form and potential beauty of a shrub or tree, but saps their strength making them vulnerable to pest or disease attack. Plants become distorted with poor branch structure and develop "naked legs", with twiggy tip growth that has little energy to put out any flowers.
Contrary to popular practice, September is NOT a good time to prune! It's actually the only time of the whole year where any major pruning can be outright harmful. Growth that pruning stimulates doesn't have time to prepare it's cell structure properly (i.e. "harden off") in time for winter, plus spring flowers are cut away.
Any time is a good time to remove diseased or damaged branches, but hold off on any larger structural pruning until at least the end of Oct when plants are going dormant, so no growth will be stimulated. Dec to late Apr is best, with a follow-up in June for spring bloomers.
Our shrub and small tree pruning is done with a good set of simple hand tools ... knowledge of the potential beauty and natural growth pattern of each shrub ... a thorough understanding of plants' natural response to pruning and their bud set habits, and how to manipulate these responses to achieve a particular design goal and long term health.
Maturing trees and shrubs are the irreplaceable backbones of any garden. They are one of the few things in life that increase in value as they get older! If they need replacing every handful of years because poor pruning practices have disfigured or weakened them, your garden's design will always need renovating. Only through regular good pruning will your shrubs ever reach and maintain the gorgeous stature of the picture, or specimen you saw, that originally inspired you to choose it for your garden.
Protect and enhance your landscape investment with a professional pruning visit each year. Just 3 short visits at different times through the season will get the job done!

Evelyn Wolf,
GARDEN POSSIBILITIES Services
---